Celebrating 11 years of being 1 BETTER!
HAVE A BEHAVIORAL PROBLEM: LET'S TALK - (302) 236-2497 Private, In-home lesson(s) available at our convenience.
K-10 Dog Training is OPEN!
Now holding group classes as well as in-home private lesson(s)!
Private classes are available for urgent or special needs, as well!
YES!!! K-10 DOG TRAINING DOES IN-HOME, PRIVATE LESSONS!
Some just want the personal time with the Certified K-10 Dog Trainer.
Call K-10 @ (302) 236-2497 to discouss your options and if a private or group class fits the needs for you and your pup/dog.
---
Group classes are all held at the Concord Pet Food & Supply Store in Rehoboth Beach, DE.
Group classes are a great way to start working with your dog in an environment with "distractions." If you are able to get your pup/dog "engaged on you" while in this environment, then you are able to start getting your pup/dog to perform for you in real life situations.
A group class environment is a great way to work on your pup/dog's socializing skills.
Please Note: All Aggression And Behavioral Issues Must Be In-Home, Private Lesson(s).
---
New!! Phone Consultations
Most information on training is general and easy and not necessary to charge for. However; if you are experiencing serious issues and want to get a "what or how do I work with my dog through this problem" by phone, my information is detailed and charging for Trainer Time & Information is important.
Get your private phone consultation by calling K-10 Dog Training @ (302) 236-2497 or Email by clicking here.
---
When the success stories just keep coming...
---
It is K-10 Dog Training's VISION & GOAL to help move all owners towards verbal and hand commands with their dogs. If your dog is listening and responds to your commands, then you will ultimately get him/her to work for you with your voice (tone) of the commands. AND when your dog is FOCUSED on YOU, then you can use the hand commands to move your dog in the direction you need them to go and stay under your control.

Dogs are so intelligent! We believe owning a dog should be a fun and rewarding experience.
With our pet friendly, proactive and balanced approach to training K-10 Dog Training is effective at resolving behavior problems and keeps dog training fun for you and your dog.
K-10 is dedicated to education and establishing relationships between pets and owners. Again, TRAIN THE SPIRIT, DON'T BREAK IT!
K-10 Dog Training has been working more and more with Behavioral issues. As the Certified Dog Trainer, I start by Teaching the FOUNDATION TO TRAINING and implementing the Management Tools along with high reward base training which now moves the dog forward to start to teach and reprogram your dog where he/she learns to know that good things happen to them. K-10 Dog Training 'Sets Our Dogs Up For SUCCESS'.
"Tweak it and Perfect it in order to Strengthen it by Maintaining it and when necessary...
Reeee-fresh it!"© 2009 – 2019.
---
R.I.P. - Max "Big D": July 7, 2017
Max has gone to doggie Heaven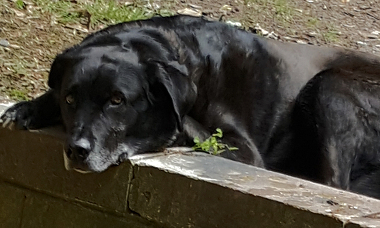 Max became our forever dog after Mr. Dog passed away of old age. He is a lovebug and a charactor.
It's sad to say, Max did not make it and is now in Doggie Heaven. The pain from the bone cancer just was too much! We loved this guy!
With so little time with him, he still became such a great Dog! His eyes had so much Spirit and he spoke to us in so many ways that made him special and funny and a wonderful dog!
We miss him so very much! We have happy, funny memories and will cherish them always!
In Loving Memory: Mr. Dog
March 1999 - September 26, 2012